Good morning and Happy Friday! Today I thought I'd share with you a few of my favorite things. (Do you hear
Julie Andrews
singing in the background? *smile*)
As you know, I try to avoid GMOs and purchase as many organic, minimally processed products as possible. However, this is the Real World and we don't always have the opportunity (or means) to
exclusively
shop at a quality health food store. With as much as we travel, there are times when I have to rely on the local supermarket or even Wal-Mart for my grocery needs. I still manage to eat healthfully and
compassionately
.
I love veggie wraps; I can, and do, eat a different variety for breakfast, lunch and dinner. However, many of the commercially-prepared tortillas are filled with white flour, sugar, fat, etc. My favorite brand is Ezekiel but they are hard to find, so in a pinch I'll buy these from
La Tortilla Factory.
Though the tortillas are hard to come by, other
Food for Life
(Ezekiel) products are readily available in most grocer's freezers. I
love
the Sesame bread, either for toast or sandwiches.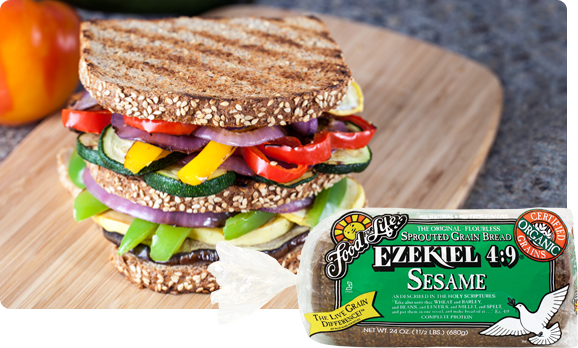 I don't know about you, but a good cup of coffee is necessary to start my day! I've tried to drink it black, but no can do; I need some flavor or a touch of sweetness. That's where
So Delicious
comes in. Their non-dairy creamers are so yummy, the perfect addition to my morning joe. The Hazelnut flavor is my personal favorite. Now, I used to find these at Winn-Dixie but for some reason they no longer carry them, big disappointment! I now make sure to stock up when I visit Whole Foods, but sure wish our local supermarkets would carry more of this brand.
Though I
prefer
to eat mostly whole, unprocessed foods with no added oil, there are times when I want a quick meal, or one that will appease my Omnivore hunny's desire for meat. On those occasions, I turn to
Gardein
. Though a little more costly than other faux meat products, they are non-GMO and in my opinion they taste much better than other brands. The crispy chick'n line is my favorite, can create so many yummy dishes with these!
Last but not least, I leave you with dessert...
Diana's Bananas
are a perfectly-proportioned sweet treat, especially good on a hot summer evening! Just be sure to buy the dark chocolate flavor as it's the only one that's vegan!
Hope this little list has inspired you to try something new, would love to hear your thoughts & reviews!
Have a great day, TGIF!